EasyRx has rocked out a new update for the month of July – we are excited to showcase this month:
EasyRx now integrates with CS OrthoTrac Imaging software
We want to thank the CareStream Dental team for helping us obtain our newest integration – EasyRx now will offer OrthoTrac users to integrate with EasyRx! This new integration will allow users, in one click, to import patient data into EasyRx. You can read more about it here in our What's New July 2016! Stay tuned as we are working on additional practice management integration options for future updates.

Now offering JBC and Company Color Card for Acrylics
We've been collaborating with JBC and Company to bring you their exclusive Color Card options into EasyRx! Labs that use EasyRx will have the option to enable these colors for their practices to select from. We want to personally thank Priscilla Mier, co-owner of JBC and Company, for partnering with EasyRx to make this possible.
Priscilla stated "JBC and Company is humbled by the overwhelming praise for it's Second Edition Color Card.  It was JBC and Company's laboratory customer's that requested the integration of JBC's colors with the EasyRx's software.  This partnership between EasyRx and JBC and Company will continue to be a rewarding experience for all involved."
Labs that would like to carry these exclusive colors may reach out to JBC and Company on their website here.
We offer labs a free EasyRx account to get started, so if you would like to join or request to activate these colors, you can reach EasyRx at 1-888-340-3751 or email us at support@easyrxortho.com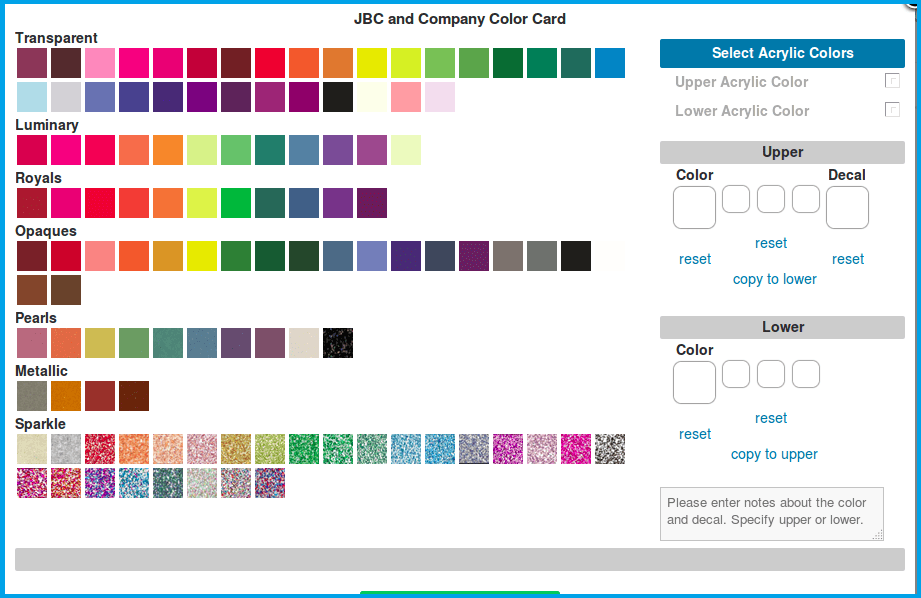 You can read more about all the new goodies available– Here is our full list of updates