The team at EasyRx is proud to announce: We've recently partnered with JBC and Company to carry the JBC and Company official color card for acrylic colors!
Labs that are current customers of JBC and Company and that also have an EasyRx Lab account can access these colors at no cost in EasyRx. This means practices submitting to your lab will be able to choose these exclusive colors when assigning acrylic colors!
Co-Owner Priscilla Mier at JBC and Company shared with us "[quote]"
We at EasyRx will need to activate the JBC and Company Color Card for your account. Please contact us at 1-888-340-3751 or email us at [email protected] — after activation, you will have the option to go into your Lab account to disable any colors you do not use. Practices that submit to your lab will have access to instantly assign those acrylic colors to their prescription without needing to manually comment or type which color name / color code they need.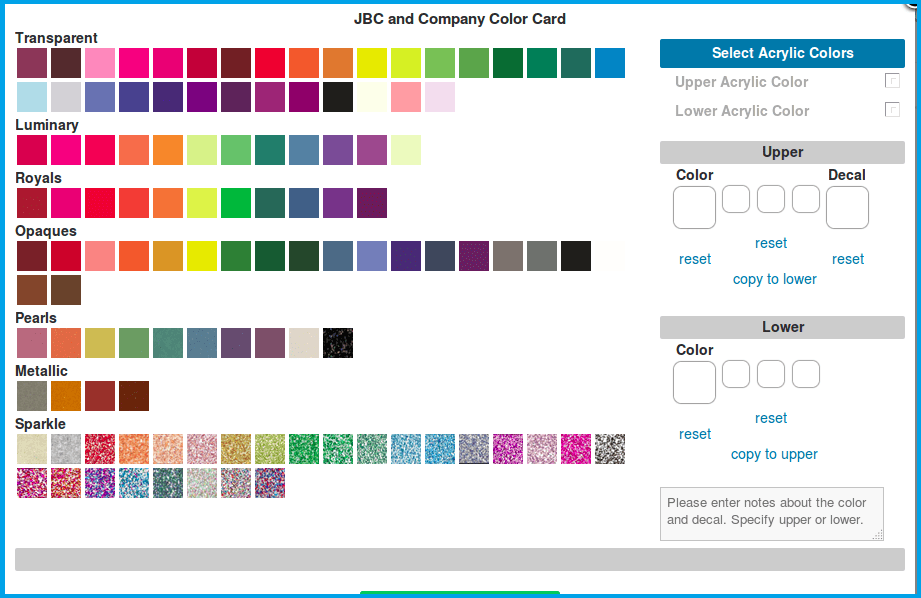 If your lab is interested in carrying the exclusive JBC and Company Color Card,  please reach out to JBC and Company at (830) 685 3700 or email them at [email protected].
A big thank you to Priscilla Mier at JBC and Company for helping us add these exciting color options in EasyRx!